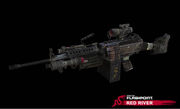 Light Machine Guns are used for suppression in Operation Flashpoint: Red River. 
To suppress enemies, fire close to them and they will often dive to the ground or crouch and wait for the fire to stop. This makes them easy targets. The Automatic Rifleman can have a Special ability which increases the amount of tracers to improve suppression on LMGs.
Enemy usage
Edit
Occasionally, other marines can be seen suppressed, but since the player can choose to move out under fire, suppression has less of an effect.
Light Machine Guns
Edit
There are four LMGs in game: the M249 SAW, the Mk. 48 MOD 0, the PKP and the QBB95 SAW.
Ad blocker interference detected!
Wikia is a free-to-use site that makes money from advertising. We have a modified experience for viewers using ad blockers

Wikia is not accessible if you've made further modifications. Remove the custom ad blocker rule(s) and the page will load as expected.